Gutter Force installs Gutter Protectors that cover the eavestroughs and allow water to flow in but keep other leaves, branches and maple keys out.

GET A FREE ESTIMATE >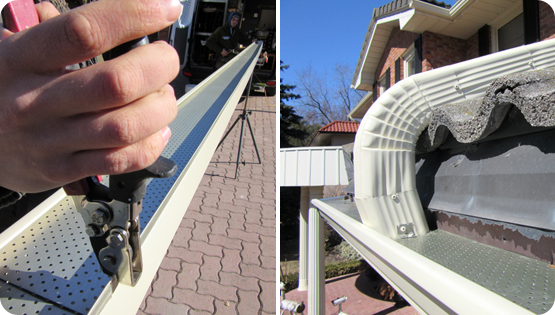 There are many different views about Gutter Guards or Leaf Protection Screens as commonly known that cover the eavestrough and allow water to flow in but keep other leaves, branches and maple keys out.
In our eaves cleaning side of the business we have seen every bad type of leaf protection screen like open mesh and plastic cheap stuff that only works for about a year or two. Using leaf protection screen where there is pine or birch trees can be problematic because the needles and spring seeds get through the holes and clog easily.
In this case you need to go to fine screen product called Rhino Guard
Alu-Rex gutter guards are excellent if you have deciduous(leafy trees) but not good if you have pine needles as the needles can go through the small holes and clog up the eaves.
Alu-Rex T-Rex can also act as a very strong continual bracket system that if used on replacement or new installations can be a much stronger hanger system than brackets alone.
Rhino Guards are a high end product that uses a stainless steel structure with a fine mesh screen on top so pine needles cannot get through. They only come in 5" widths.
A well designed and function leaf protection screen can give you 6-8 years of relatively maintenance free protection but stuff can gather in inside corners or on top that you need to watch for and remove if you see it.
Also leaves can bio degrade over time and soil can build up in front of downpipes so those areas should be watched for overflow in heavy rains.
Why cover your eavestroughs?
No annual cleaning

Prevents downpipe blockage

Support eavestrough as a continual bracket

Better drainage year round

No clogged eavestroughs
With Gutter guards it is a trade-off of no annual maintenance, however you will have some spillover in big storms. If you decide to go for bigger wider 6" eavestrough with leaf protection screen you will have less spillover.
We strive to offer unmatched service and customer satisfaction.
We've raised the bar for quality standards in our industry!