Gutter Force installs new seamless eavestroughs, soffits and fascia , in Toronto, the GTA and the surrounding area. We also repair existing damaged eavestroughs. As an experienced gutter and eavestrough contractor, we have the knowledge and expertise to get the job done right.

GET A FREE ESTIMATE >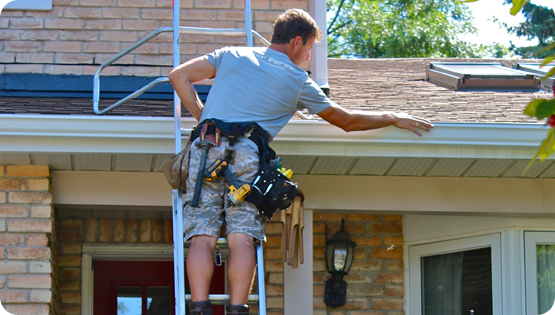 Professional Eavestrough Installation
If you are looking for seamless eavestrough installation or eavestrough replacement , we can help. If you have leaking eavestroughs, we can solve the problem. Our trained technicians specialize in installing new aluminum seamless eavestroughs, soffit and fascia.
At Gutter Force we use our own trucks with our own crews covered by WSIB. We do not use sub contracters. We can control quality and get the job done right away with our own crews..you don't need to wait for weeks and worry about rains coming . We do the jobs with a few days of your confirmation.
Our trucks are equipped with mobile extrusion machines that extrude the gutter or eaves to the exact length that is required for your house. We custom mitre the corners proffesionally for a clean look. …no crappy box corners used that could leak that are used by inexperienced crews.
We specialize in replacing and installing new eaves-troughs and working with Aluminum trim like Fascia and soffits. We aren't roofers and roofers aren't eavestrough technician . If a roofer says he can do your eavestrough he is most probably subbing out or calling in a truck to extrude the eaves for their crew.
Get the right tradesmen for the job that are experienced and specialize in eavestroughs and aluminum exteriors work… that's Gutter Force!
The weather has changed dramatically in the past few years with "Super Storms" that are heavy downpours in a very short time that cause flash flooding. If your eaves do not have clear clean eavestroughs, or they are small 4" or 5", with the new heavy rains they can overflow and cause basement flooding.
We are installing a lot of larger 6" eavestroughs that work well in these heavy rainstorms. Many companies will try to talk you out using the larger eaves as they used to be only used in Commercial applications or on large houses and they do not have the machine to extrude the larger size. With the new heavy rain storms we are finding them perfectly suited for any house big or small. The large 6" eaves can hold twice as much water and reduces overflow substantially even when leaf guard is installed on top of the large eaves or gutters they work better because they are bigger and wider.
Are you experiencing any of these?
Leaking corners

Cracked downspouts

Overflow during Rain

Water in gutters not flowing to downpipes

Plugged eavestrough and/or downspout
If you're experiencing any of these, it is time to contact Gutter Force eavestrough installation specialists to determine the best course of action and for tips on how to alleviate any future problems that you may encounter.
We strive to offer unmatched service and customer satisfaction.
We've raised the bar for quality standards in our industry!