Have your eavestroughs inspected and repaired by Gutter Force, the professional eavestroughs contractor.
A well maintained, properly-working eavestrough system prevents water damage to walls, windows, ceilings, soffits, fascia and the foundation of your property. Trust us to properly repair your eavestrough and keep your home or business safe, secure and looking great.
GET A FREE ESTIMATE >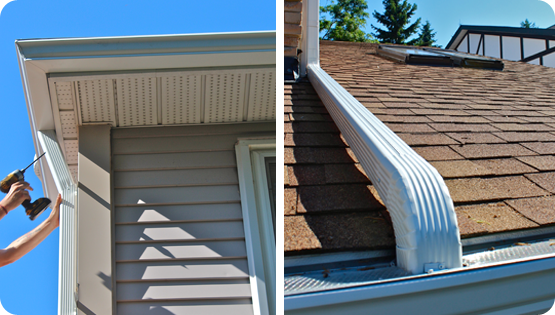 Eavestrough Repair & Maintenance
Eavestrough repairs are necessary home maintenance jobs. Eavestroughs or rain gutters need to be properly inspected and cleaned in both spring and fall to check for leaks and areas that may have been damaged by the weather or clogged with debris.
Our experience and knowledge make us the right gutter and eavestrough contractor to inspect, clean repair or replace your eavestrough.
In addition, we can install extenders at the bottom of the downspouts to carry water away from your foundation so you don't end up with water leaking into your basement. We have the skills, ability and expertise necessary to protect your home. If there is a broken or damaged section on your eavestrough or gutter, we remove the section in question and carefully replace those segments with properly-leveled new eaves that are aligned to correctly drain to the downspouts.
Quality Workmanship Guaranteed
At Gutter Force, quality is important to us. We have built our reputation on a high standard of customer service and satisfaction. Whether you are looking to have an eavestrough or gutter repaired or for any of our other services, we get the job done right the first time, professionally and efficiently. That's our promise to you.
Our service excellence and quality workmanship are the the reason why our customers continue to recommend us to their family, friends and neighbours.
Downpipe Repairs & Cleaning
Cleaning your eavestroughs, gutters and downpipes is incredibly important to protecting your home from potentially serious water damage. Overflows can allow water to enter your brickwork and damage the interior of your home, so proper cleaning and maintenance is crucial.
The Eavestrough and Rain Gutter System
The basic eavestrough and gutter system is created to allow rainwater to drain away from the house and toward the outlets. The main eaves and gutter is connected to a downpipe that passes the water at the base to a rainwater gulley away from the wall. Sometimes the system may incorporate a hopper – a rectangular funnel – which allows more than one pipe to feed into the downpipe.
Problems that can occur in old or damaged eavestroughs and gutters:
Blockages in the gutter or downpipe.
Leaks caused by rusty or damaged joints.
A sagging gutter caused by overloading or faulty brackets or screws.
We strive to offer unmatched service and customer satisfaction.
We've raised the bar for quality standards in our industry!