Toronto's Most Preferred Eavestrough Service Company
Installation, Repair and Cleaning
There are many different views about Gutter Guards or Leaf Guards as commonly known that cover the eavestriughs and allow water to flow in but keep other leaves and branches and maple keys out.
More than 1,000 home owners have trusted Gutter Force to provide them with complete eavestrough installation / repair / cleaning, gutter cleaning, repair and downspout disconnection services.
Our business practices enhance customer trust and confidence in our services, allowing Gutter Force to continuously provide high quality workmanship that exceeds customers expectations.
View Our Work
Installing eaves, soffit and fascia adds the right finishing touches to the exterior of your home as a detailed decorative trim, improving your curb appeal.  It's like doing an exterior makeover when you renew or change the colour. You can choose from a variety of colours to complement and enhance your home's appearance.
We can help you choose the correct materials for your home and install it correctly.
Contact us for more information >
A well maintained, properly-working eavestrough system channels the water away from the house preventing water from leaking down into the foundation of your home. Trust Gutter Force to properly repair your eavestroughs and keep your home or business safe, secure and looking great.
It's important to have your gutters, eavestroughs and downpipes inspected and cleaned regularly.
Did you know? 90% of basement flooding is caused by blocked or overflowing eavestroughs.
Call us for an inspection (416) 809-2922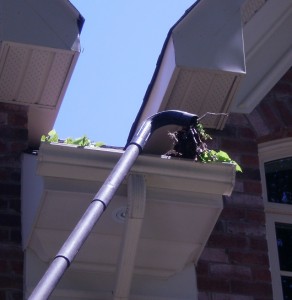 The Gutter Force eavestrough cleaning system is better than manually cleaning your gutters. Our system is more efficient, safer and more reliable than competitors' methods. Our unique suction system allows us to clean all debris, big and small as well as all the mud and sand from shingles at the bottom of the eaves that cannot be picked up manually with your hands.
Our system also allows us to check for downspout blocks. We reverse the flow on our vacuums to blow air into the holes of the downpipes. Our professional operators can the identify if you have a blockage problem in your downpipe elbows. We then go up ladders and disconnect the pipes, unclog them and professionally reattach them to the eavestrough, ensuring it is properly secured.
Gutter Force only employs trained professionals with over 10,000 hours of experience in extruding, forming and attaching new seamless eavestroughs to new and old homes. Every member of our team is an experienced professional who takes pride in his or her work. Watching our team in action is a treat as they are detail orientated, efficient and highly skilled.
We level the new eaves to ensure proper slope for water to flow to the downpipes.  All corners are custom mitred and caulked for a cleaner look and tight seal.  Gutter Force will make precision drilled holes into the exterior wall and anchor the downpipes to lock them in place.  Your new seamless eavestroughs will function better, won't leak or over overflow guaranteed.  They will be much more aesthetically attractive than your current eavestroughs.
We are a hands on, owner-operated business that listens to our customers and works conscientiously to a high standard of excellence.
Ice build-up on roofs, eaves and soffits cause serious structural damage to your roof as well as your home. Ice build-up can force water underneath your shingles, behind vapour barriers and walls and into your home causing serious damage.
You need to have professionals remove the ice dam using safe procedures to ensure that no one is injured in the process and that your shingles and eavestroughs are not damaged. Gutter Force offers professional roof ice dam removal.
Gutter Force employees understand that it takes a team effort to get the job done efficiently. We consider ourselves to be caring tradesman with attention to detail, professionally trained to do whatever it takes to get the job done properly.
We always look to hire hardworking people with a positive attitude, strong work ethic, and doing whatever it takes to get the job done properly.
Safety First, Nobody should go on ladders if there is a way to avoid it.
Gutter Force teams are qualified, trained professionals, backed by an established business that is licensed with public liability insurance of $5 million. Our company uses the best equipment and safety systems to clean and install eavestroughs on your home.